When going to an African-inspired wedding, there are some things to keep in mind, whether we attend as friends of the new couple, family of the new couple, or the newly wedded couple itself. We will take a look at these things according to our role at the wedding.
Guests:
As guests, there are quite a number of ways we can spoil the wedding, and ways we can make it a fun, vivacious occasion. Here are some of the things we should do:
Rsvp in time and do your best to follow the instructions – if it invites 2 people, kindly stick to what is said, however tempted you are to bring along a 3rd person.
Carry some money, because it is highly likely there will be a money dance.
Be happy for the couple, however sad you are to see the marriage take place. Not only can it ruin the mood of those around you, but it can also make you a laughing stock, and an additional topic for later – a position, I am sure, you do not envy.
And do your best not to do the following: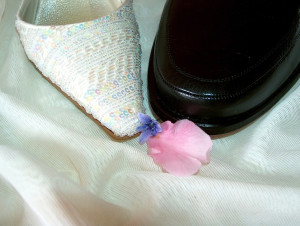 Wrestle for the bouquet. Unbecoming, no matter how smart
you are, I assure you.
Outsmart the bride – literally. This is something we females tend to do. Yes, you are happy for the bride, and are interested in "representin'", but there is no need to try to outshine the bride, or any of her party.
Let your kids run loose during the money dance if there is a high chance they will try to pocket some of the flying dough.
Give a long, winding speech. Keep to the time allocated to you. If you delay (by doing your best to express all your feelings) you will have disorganized the program.
The Bride and Groom:
You are the two people with the potential to make or break this
important occasion. Here are some things you can do to make it awesome:
Beam at your bride as she comes down the aisle. She is likely to be quite nervous, and your smile will do wonders. So give her your all. Smile-wise, at least. Remember how much you have been looking forward to this day. And keep that demeanor throughout the day.
Remember family is honored in all cultures, especially African weddings. So, when giving your speech, remember to thank them and praise and honor your spouse. Promise to take care of him/her (and stick to that promise!).
Really simple for you my dears. Just, relax, and let all the joy bubbling in you flow. Your mood affects the mood of everyone else –not much of a surprise, seeing how you are the guests-of-honor and all. While it is true that you want it to be perfect, surely you have done your best? Now enjoy all the fruits of your efforts.
Be chaste. Keep the kiss and dance PG-13.
Do not, under any circumstances:
Arrive (or leave) drunk, hangover, late or all of the above to the church.
Forget the rings. Unless you want to cause chaos. As a precaution, give it to the best man in advance.
Abandon your bride during the party when greeting guests. I do not think I need to elaborate.
Pretty simple to stick to, aren't they? If all of us do our best to make it a successful day, the affair will be quite memorable.
For more African Wedding insights visit – http://namibiawedding.com